Liza, Denise and I were having lunch at Chili's, talking about Buddy's Masters Degree Program possibly meaning that they'll move to Florida next.  Without thinking, Denise asked, "Which is closer?  Arizona or Florida?"  As she said it, she realized what she'd said.  We all did the "air map".  "This is us.  We are here.  AZ is here.  FL is here."  We laughed and laughed.
Later, we were talking about nuts.  A neighbor has shared some amazing fresh walnuts from their tree.  FABULOUS!  Denise said, "Of all the nuts, I'd have to say that walnuts are my least favorite.  I've never thought that they were very good, which is really strange because I love pecan pie."  Um.  PS.  Denise.  Pecan pie is made of pecans, not walnuts.  Again. We were laughing out loud.  Two very blonde moments from Denise.  Maybe you had to be there, but we laughed a lot today.
Thursday's agenda for Liza and I included lunch at Chili's, Breaking Dawn with Denise and Kelly, some shopping, getting Liza's wedding ring cleaned and inspected, some of Liza's Christmas shopping, some clothes shopping, dinner with Denise, seeing Kelly's new home and a jewelry party at Carol's.  Fun stuff!  My favorite moment of the day was when we arrived at the theater, where Max works.  Max is Liza's brother-in-law, who if you remember, was in a coma at this time last year, after being broadsided by a pickup truck.  Here's their "hug" hello, through the "box".  Loved it!  (We did get real hugs when we went inside!) I'm so glad that Liza loves her in-law family so much!
Friday, Liza will be spending the day with Buddy's family and then attending the Mormon Tabernacle Choir Christmas Concert in SLC.  We won't see her all day long.  I'm feeling like the very good mother to share my daughter for a whole day of her trip!  Truth is, it's killing me to have her here but not here for one second.  But, she's excited to see Buddy's family too.  ;)  Thursday's gift was music...the Breaking Dawn Soundtrack, Adele and some Christmas music.  Loving every minute of our time together!
Now, a little Christmas.  I'm absolutely dying at the thought of all the fun of  the season being over in just nine days!!  I've been so focused on Liza coming that I've not really counted the days until Christmas!  And now, it's almost here!
When we returned home, I found a delicious plate of cookies and these darling gloves waiting for me, a gift from my visiting teachers.  I LOVE these gloves with the felt and lace flower!  Wouldn't they be a fun gift for the teens to share with their friends.  Great idea!

This recipe from Pinterest via wonderful friend, Katie.  She says they are a MUST TRY!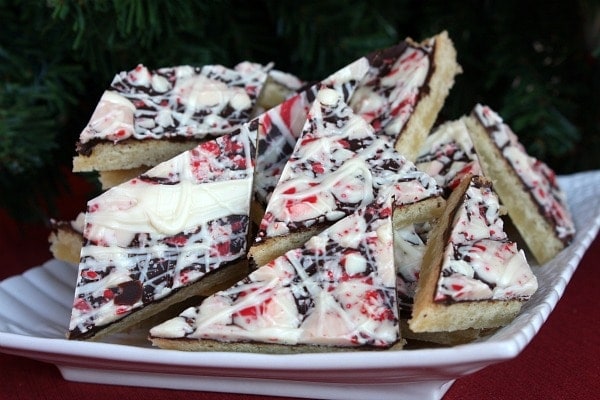 2 cups all purpose flour
1/4 teaspoon salt
1 cup (2 sticks) unsalted butter, at room temperature
1 cup granulated sugar
1 teaspoon vanilla extract
1 large egg yolk
6 ounces bittersweet or semisweet chocolate, chopped (or use chocolate chips)
1 cup chopped Hershey's Candy Cane Kisses (or use crumbled candy canes)
2 ounces white chocolate
Directions:
1. Preheat oven to 350°F. Spray 13x9x2-inch metal baking pan with nonstick spray. Line bottom of pan with long strip of 9-inch-wide parchment paper, leaving overhang on both short sides of pan.
2. Whisk flour and salt in medium bowl. Using electric mixer, beat butter in large bowl until creamy, about 2 minutes. Gradually beat in sugar. Continue beating until mixture is light and fluffy, stopping occasionally to scrape down sides of bowl, about 3 minutes. Beat in vanilla, then egg yolk. Gradually add flour mixture, beating on low speed just to blend.
3. Drop dough by tablespoonfuls into prepared baking pan, spacing evenly. Using moistened fingertips, press dough to form even layer over bottom of pan. Pierce dough all over with fork.
4. Bake cookie base until light golden brown and slightly puffed and edges begin to come away from sides of pan, about 30 minutes. Place pan on rack; immediately sprinkle bittersweet chocolate over. Let stand until chocolate softens, about 3 minutes. Using small offset spatula, spread bittersweet chocolate over top of cookie in thin even layer. Immediately sprinkle chopped candy cane kisses over (or candy canes).
5. Stir white chocolate in medium metal bowl set over saucepan of simmering water until melted and smooth. If it's too tough and thick to stir, add a tiny drizzle of vegetable oil or 1/2 teaspoon of shortening to thin it out. Remove from over water. Using fork, drizzle white chocolate all over cookies. Chill until white chocolate is set, about 30 minutes.
6. Using paper overhang as aid, lift cookie from pan and transfer to work surface. Using large knife, cut cookie into irregular pieces.
Tips: *DO AHEAD Can be made 1 week ahead. Store in refrigerator (or freezer) in airtight containers between layers of waxed paper or parchment paper. Can be stored in the freezer for several weeks.
That best portion of a good man's life; his little, nameless, unremembered acts of kindness and love.